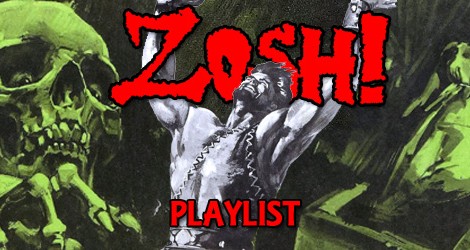 ZOSH!-Playlist: Mittwoch, 31.05.2017 (21 bis 24 Uhr)
Moderation: Andi & Honsel
NIGHT DEMON – Life On The Run
HARLOTT – The Penitent
GUNS'N'ROSES – Live And Let Die (R.I.P. Roger Moore)
FARSOTT – Under Currence
INDIAN NIGHTMARE – Circles Of Fire (NEU) (Konzertrückblick)
DISTILLATOR – Mechanized Existence (NEU)
DANKO JONES – Full Of Regret (Konzerthinweis & Verlosung)
CRAZY LIXX – Wild Child
SAMSARA BLUES EXPERIMENT – Glorious Daze (NEU)
** Triple Oldie Treat
HELLOWEEN – Push (1998)
AVANTASIA – Breaking Away (2001)
GAMMA RAY – Man On A Mission (1995)
VALLENFYRE – Messiah (Reinschmecker)
EVOCATION – Modus Operandi
NOCTE OBDUCTA – Trollgott (NEU)
MORAST – Forlorn
WHITESNAKE – Fool For Your Loving
SNAKE CHARMER – Sounds Like A Plan
INGLORIOUS – Taking The Blame (NEU)
RESIST THE OCEAN – Long Road Home (Konzerthinweis & Verlosung)
** Zählen lernen mit Zosh! – Die Zahl 22
PERIPHERY – 22 Faces
KING'S X – Lost In Germany (Konzerthinweis)
DREAM THEATER – Metropolis (Konzertrückblick)
ICED EARTH – My Own Saviour
FARFLUNG – You Will Kill For Me
GOD DETHRONED – The 11th Hour
COOGAN'S BLUFF – A Swim In The Park
PRONG – Lost And Found
______________________________________________________________
ZOSH! – das Magazin für harte Musik auf Radio Z, Nürnberg, 95,8 MHz.
Auch zu hören im Livestream auf unserer Homepage: www.zosh.de
oder über die Homepage unseres Mutterschiffs: www.radio-z.net
Beachtet auch unseren Konzertkalender: Unter www.zosh.de findet Ihr regelmäßig
alle aktuellen Heavy Metal- und Rock-Konzerte in Nürnberg und Umgebung
sowie Hinweise auf kommende Verlosungen!
Defenders Of The Faith-Book: www.facebook.de/zosh.de
ZOSH! sendet wieder am Mittwoch, den 31.05.2017 von 21 bis 24 Uhr:
Zur Verlosung werden Gästelistenplätze für das Konzert von King's X am 18.06.
im Hirsch aufgerufen, sowie Restplätze für DANKO JONES
(16.06., E-Werk, Erlangen)und RESIST THE OCEAN (15.06., Z-Bau).
Freut Euch auf erbauliche Stunden mit Mike & Honsel, einer Menge
Neuvorstellungen und der Zahl 23!