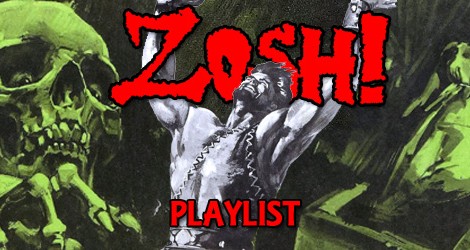 ZOSH!-Playlist: Mittwoch, 01.11.2017 (21 bis 24 Uhr)
Moderation: Dom & Honsel
SPEEDTRAP – No Glory Found
DEAD LORD – They!
SORCERER – Sirens
DAWNBRINGER – Cataract
BUNKER 66 – Chained Down In Dirt (NEU)
SCHAFOTT – Satan's Throne
** Prädikat "wertvoll" für: Grave Pleasuers "Motherblood" (NEU)
GRAVE PLEASURES – Infatuation Overkill
GRAVE PLEASURES – Haunted Afterlife
SMOKE BLOW – Skoolyard Fool (Konzertrückblick)
END OF GREEN – Sick One (Konzerthinweis & Verlosung)
NAKED STAR – Follow The Iron Cross (Konzerthinweis)
** Triple Oldie Treat
SLAYER – Angel Of Death (1986)
METALLICA – Trapped Under Ice (1984)
OVERKILL – Rotten To The Core (1987)
JINGO DE LUNCH – Did You Ever
VALBORG – Blut am Eisen
TOTENMOND – Hölle mit Hof
** Konzertrückblick: The Vision Bleak & Nocte Obducta, 01.10.2017, Der Cult, Nürnberg
NOCTE OBDUCTA – Wenn nur im Tod noch Frieden liegt
THE VISION BLEAK – From Wolf To Peacock
CARNIVORE – Jack Daniel's And Pizza/Angry Neurotic Catholics
MIDNIGHT – Ready For Destruction
** Zählen Lernen mit Zosh!
DEMOLITION HAMMER – .44 Caliber Brain Surgery
NIGHT VIPER – Exterminator (NEU)
ENFORCER – Black Angel
MORGANA LEFAY – Where I Rule
SPECTRAL VOICE – Thresholds Beyond (NEU)
MOSAIC – White Gloom (Konzertrückblick)
DROPKICK MURPHY'S – Pipebomb On Landsdowne
VAL SINESTRA – Zwei Finger
WITCHERY – Unholy Wars
NECROPHOBIC – Pesta
______________________________________________________________
ZOSH! – das Magazin für harte Musik auf Radio Z, Nürnberg, 95,8 MHz.
Auch zu hören im Livestream auf unserer Homepage: www.zosh.de
oder über die Homepage unseres Mutterschiffs: www.radio-z.net
Beachtet auch unseren Konzertkalender: Unter www.zosh.de findet Ihr regelmäßig 
alle aktuellen Heavy Metal- und Rock-Konzerte in Nürnberg und Umgebung
 sowie Hinweise auf kommende Verlosungen!
Defenders Of The Faith-Book: www.facebook.de/zosh.de
Zosh! sendet wieder am Mittwoch, den 08.11.2017:
Zur Verlosung stehen Gästelistenplätze für das Konzert von W.A.S.P. am 18.11. in der Music Hall Geiselwind im Rahmen ihrer "Crimson Idol"-Rückschau-Tournee "Re-Idolized".