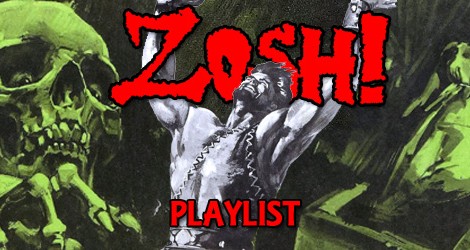 ZOSH!-Playlist: Mittwoch, 27.12.2017 (21 bis 24 Uhr)
Moderation: Honsel & Mike

MOTÖRHEAD – Overkill
PROCESSION – When Doomsday Has Come
HAMFERD – Fylgisflog (NEU)
CALLIOPHIS – Seven Suns
NAEVUS – Sky Diver
** Zosh! präsentiert: Franconian Metal Party am 30.12. im Hirsch, Nürnberg (Verlosung)
MECHANIX – I Don't Care
TANKARD – Syrian Nightmare
INDIAN NIGHTMARE – Unexpected Decay
** Triple "1977" Oldie Treat
BLUE ÖYSTER CULT – Golden Age Of Leather (1977)
MOTÖRHEAD – Motörhead (1977)
AC/DC – Hell Ain't No Bad Place To Be (1977)
UNSANE – The Grind
WHORES – Of Course You Do
OATHBREAKER – Where I Leave
SLAEGT – The Tower
II – Indoctrination Of Death's Command (NEU)
HERESIARCH – The Yoke
CONDOR – You Can't Escape The Fire
VALLENFYRE – Cursed From The Womb
EINSEINSEINS – Psychotronics (Konzerthinweis & Verlosung)
** Zählen lernen mit Zosh! – The final countdown!
BAD RELIGION – 52 Seconds
ELECTRIC FETUS – Friday Night (NEU)
FATES WARNING – A Handful Of Doubt (Konzerthinweis)
TAU CROSS – On The Water
VALBORG – Stossfront
DÄLEK – Few Understand
CIRCLE – Rakkautta Al Dente
______________________________________________________________
ZOSH! – das Magazin für harte Musik auf Radio Z, Nürnberg, 95,8 MHz.
Auch zu hören im Livestream auf unserer Homepage: www.zosh.de
oder über die Homepage unseres Mutterschiffs: www.radio-z.net
Beachtet auch unseren Konzertkalender: Unter www.zosh.de findet
Ihr regelmäßig 
alle aktuellen Heavy Metal- und Rock-Konzerte in
Nürnberg und Umgebung
 sowie Hinweise auf kommende Verlosungen!
Defenders Of The Faith-Book: www.facebook.de/zosh.de
ZOSH! sendet wieder am Mittwoch, den 03.01.2018 von 21 bis 24 Uhr!